Release.

Dave Merenda & Commuter | Young Hearts
Date

10/07/2009

Genres

Artists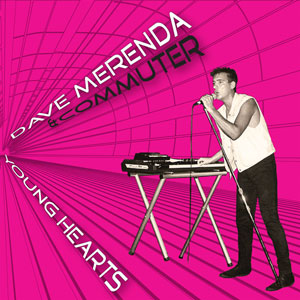 Details.
Produced by Dave Merenda
Executive Producer Cathy Merenda
Mixed and mastered by Dave Merenda at Westwood Studios, Los Angeles, CA
Dave Merenda – vocals, keyboards, guitar, programming
John McCormick – bass, bg vocals
Glen Lynskey – guitar
Vin D'Onofrio – guitar
Mark Keefner – drums
Jerry Angel – drums
All Compositions by Dave Merenda
Published by Dave Merenda Music (ASCAP) except "Young Hearts" published by Chrysalis Music Group obo Rare Blue Music and EMI Golden Torch Music (ASCAP)
Package Design by Smitty Imaging Ltd.
Tracklist.
The press wrote.
If you were ever lucky enough to remember this 80's electropop, New Wave band Commuter, you would love this album.   Dave Merenda, the venerable leader of the band, singer and songwriter produces a collection of old demos and recordings that will put you right back into the mid-80's.
If you like a cross between Elvis Costello, Devo, Thomas Dolby, Billy Idol and Depeche Mode you will love Dave Merenda & Commuter.